SG Sign Company is your local Sign Repair Company servicing Pennsylvania and New Jersey.
A well-designed sign is an important asset for any business. Not only does it help to attract customers and promote brand awareness, but it can also be a valuable source of revenue. However, over time, signs can become damaged or worn, making them less effective and potentially costing businesses money. That's where SG Sign Company and our sign repair services can be a valuable partner to you and your business. Whether it's fixing a loose letter or replacing a cracked panel, a the team here at SG has the skills and experience to keep your signs looking their best. Additionally, by repairing signs instead of replacing them, businesses can save money and help to protect the environment. So if you're looking for a way to keep your business' signs in top condition, consider partnering with SG Sign Company for your sign repair company.
Sign
Repair

& Sign

Maintenance
Sign Repairs | Sign Removal | Sign Installation
Signs are normally built to withstand the elements, however they can still be damaged by weather, regular wear and tear, or worse, vandalism. When your sign becomes damaged, it's important to have a sign company that you can rely on for quality and fast sign repair services. At SG Sign Company, we understand the importance of having a well-maintained sign. That's why we offer a comprehensive range of repair services for your business sign, from minor touch-ups, to LED conversions, and even a complete sign replacement. If you have been searching for a sign removal company and you are in the greater Philadelphia area, give us a call and let us breathe some new life into your business sign.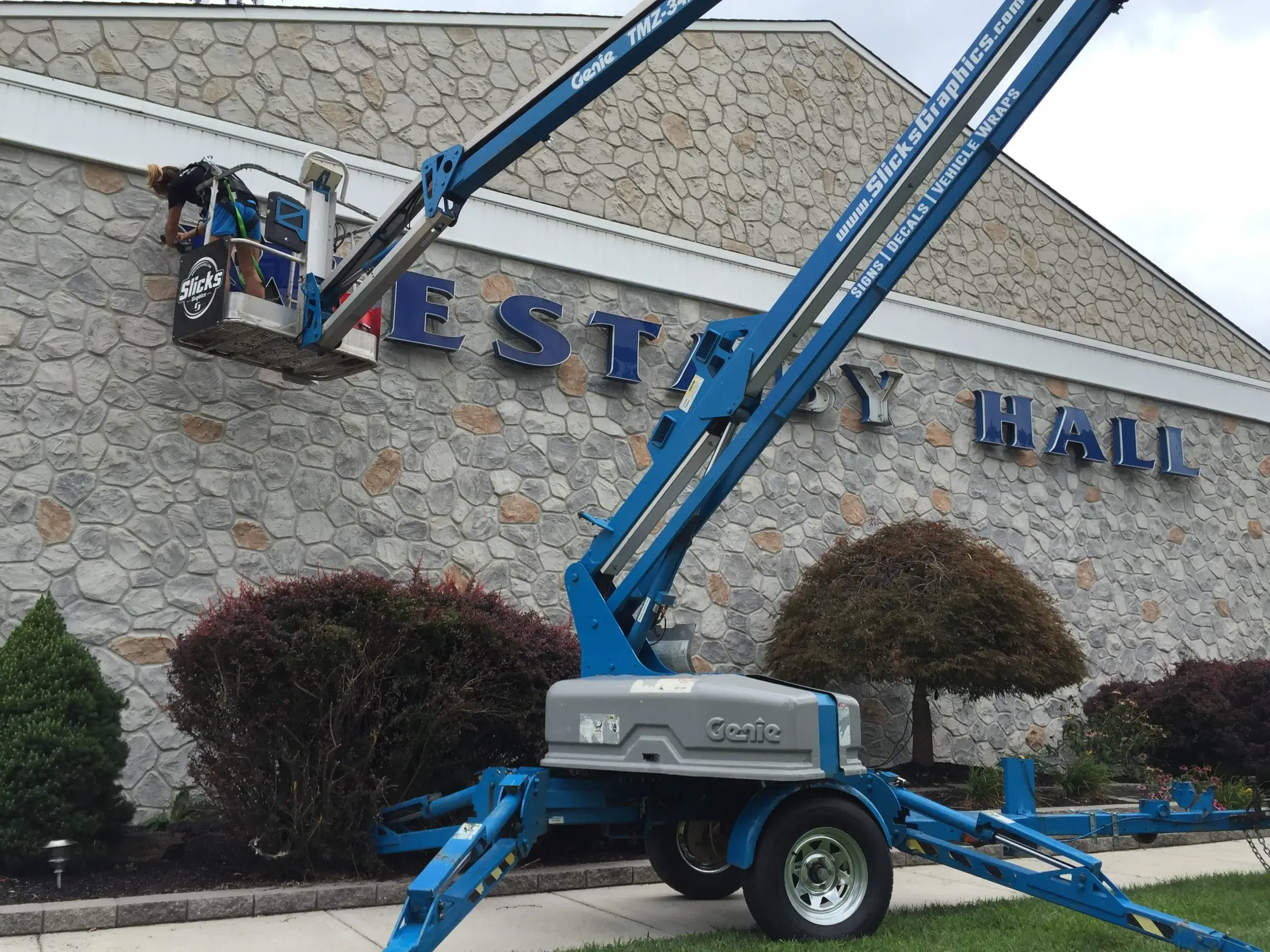 Here are just a few of the many sign repair services that we offer:
– Replacing damaged letters or numbers
– Repairing cracked or broken panels
– Replacing burned-out light bulbs
– Straightening bent or leaning poles
– Touching up faded paint or graphics
So whether your sign has been damaged by a severe storm or simply needs a fresh coat of paint, we're here to help. Contact us today to learn more about our quality sign repair services.
Local Sign
Repair

and Replacement

Services
DO YOU HAVE A SIGN THAT IS IN NEED OF REPAIRS?
Is your business in need of a new sign? Or maybe your current sign is starting to show its age? Either way, it's important to have a reputable and experienced sign company to handle your repair or replacement needs. If you are in search for a full service sign company, you have come to the right place. Slicks Graphics is your all in one solution for your next business sign. 
Sign installation: Already have your sign fabricated? We can help you get your new sign up and running in no time.
Sign repair: From simple touch-ups on pylon signs to more extensive repairs for a monument sign, our team can handle it all.
LED Conversions: Converting your existing sign to LEDs in order to save on your energy costs.
Sign replacement: If your sign is beyond repair, we can help you design, manufacture, and install a new.
No matter what type of commercial sign services you need, we're here to help.

Looking A reputable Sign
Repair

Company?
Get In Touch with Us Today!
We are the go to company for sign repairs in the greater Philadelphia area. If you have a sign in need of repairs, maintenance, or even LED conversions, contact us today to get started.